Aviation stool (Recycling design)
Hocker aus dem Schrott alter Hubschrauber und Flugzeuge. Bei Wartungsarbeiten anfallende Bleche älterer Modelle lassen sich teilweise zu leichten Hockern recyceln, deren unterschiedliche Farben, Beschriftungsspuren und Nietlöcher noch auf die ursprüngliche Verwendung verweisen. Die hochwertigen Bleche aus dem Flugzeugbau variieren zwischen 0,35mm bis 1,2mm Stärke und die daraus hergestellten Hocker wiegen zwischen 1,0kg bis 1,5kg. Auch wenn diese Blechdicken teilweise schon extrem gering sind, der fertige Hocker ist sehr stabil, da seine Leichtgewichtskonstruktion vom Flugzeugbau abgeleitet ist.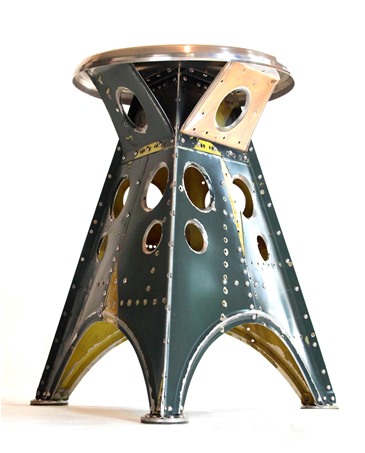 "Recycling Design", stool made from BELL helicopter scrap.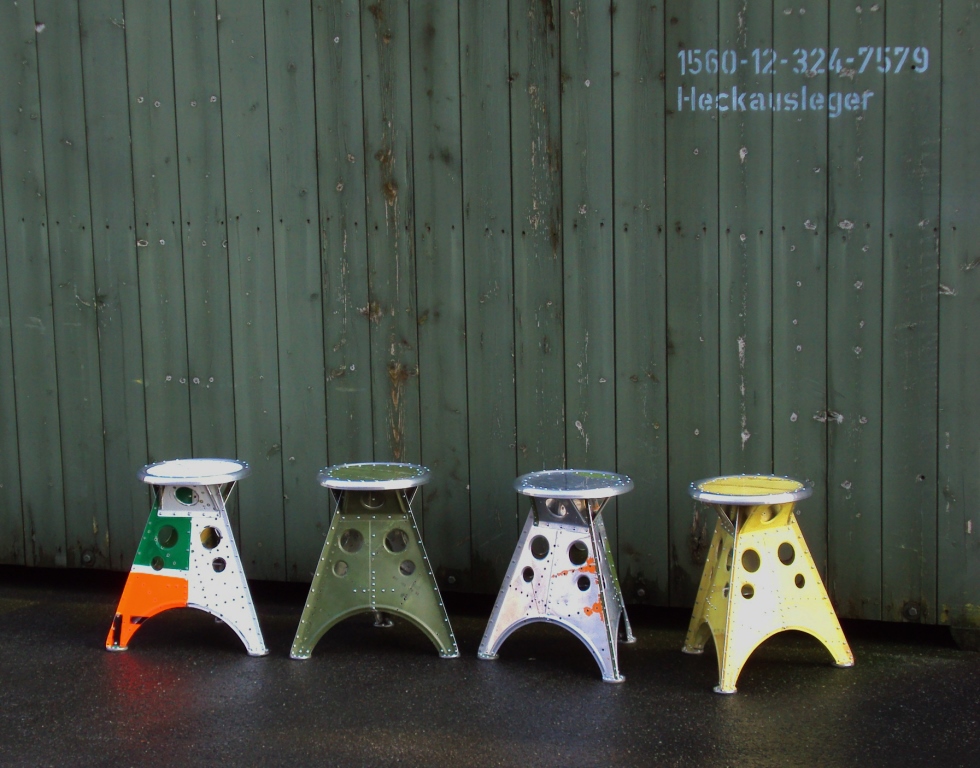 Recycled stools with remains of their former color. Some of these helicopters were damaged when fire fighting.
After removing the rivets: sheet aluminum from a helicopter tailboom with drawings of the future stool parts ready for cutting.
Parts for one stool made from scrap of a BELL police helicopter. The sheet aluminum was also part of a tailboom.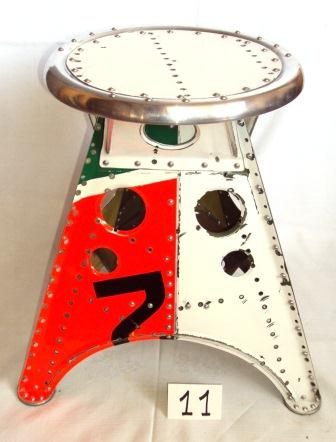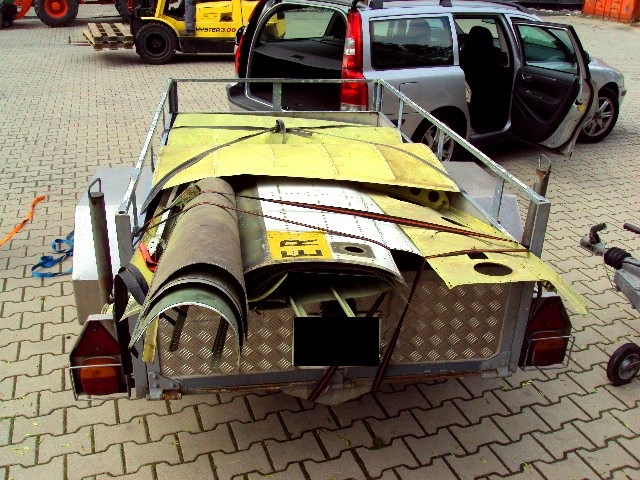 Scrap from a helicopter maintenance company - raw material for some lightweight stools.
Helicopter tailboom.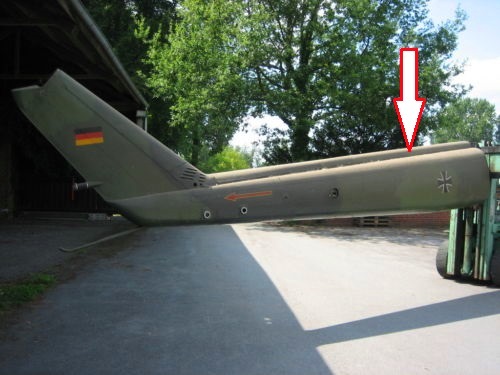 From that particular part of a Bell UH 1-D (see arrow) we got a very thin sheet (0.35mm!), enough for one stool with a weight of only 1002 g: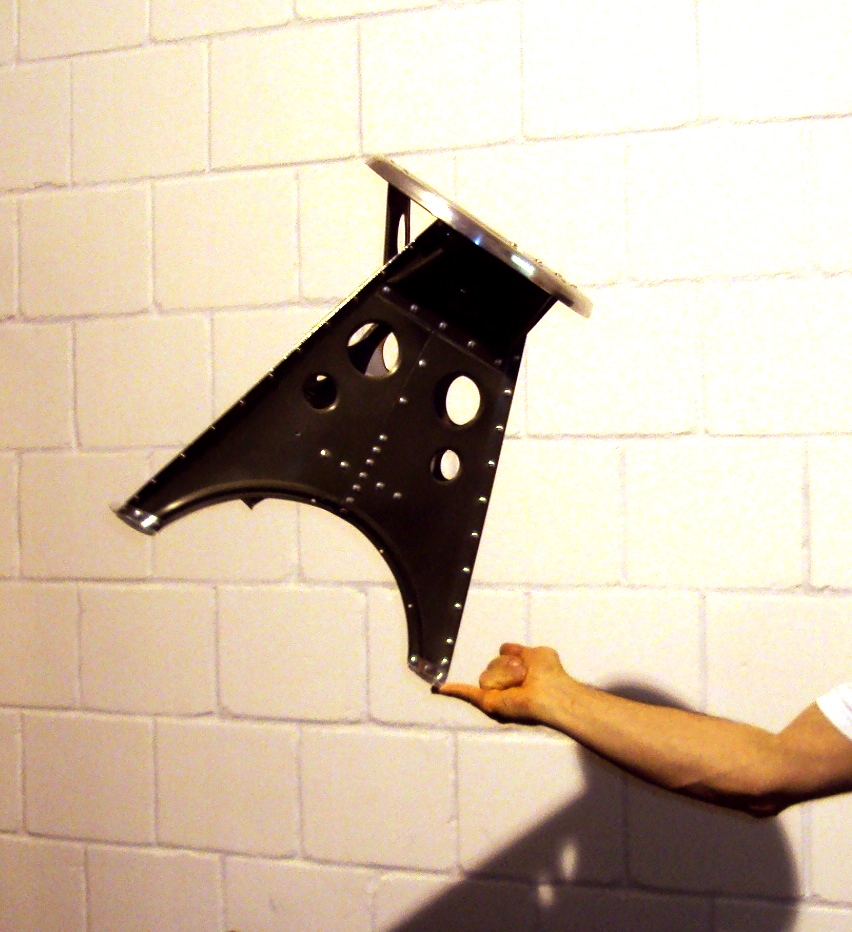 Lightweight furniture construction: only 1002 g and static load test with two persons (about 145kg).
Stool made from a french BROUSSARD MH 1521 (1950s) aircraft. We used a cowling. See "NE PAS MONTER".
About 200 rivet holes to drill for one stool. The aircraft tools are neecessary for a good result and a better performance.
Riveting the seat with an "Alligator" rivet squeezer.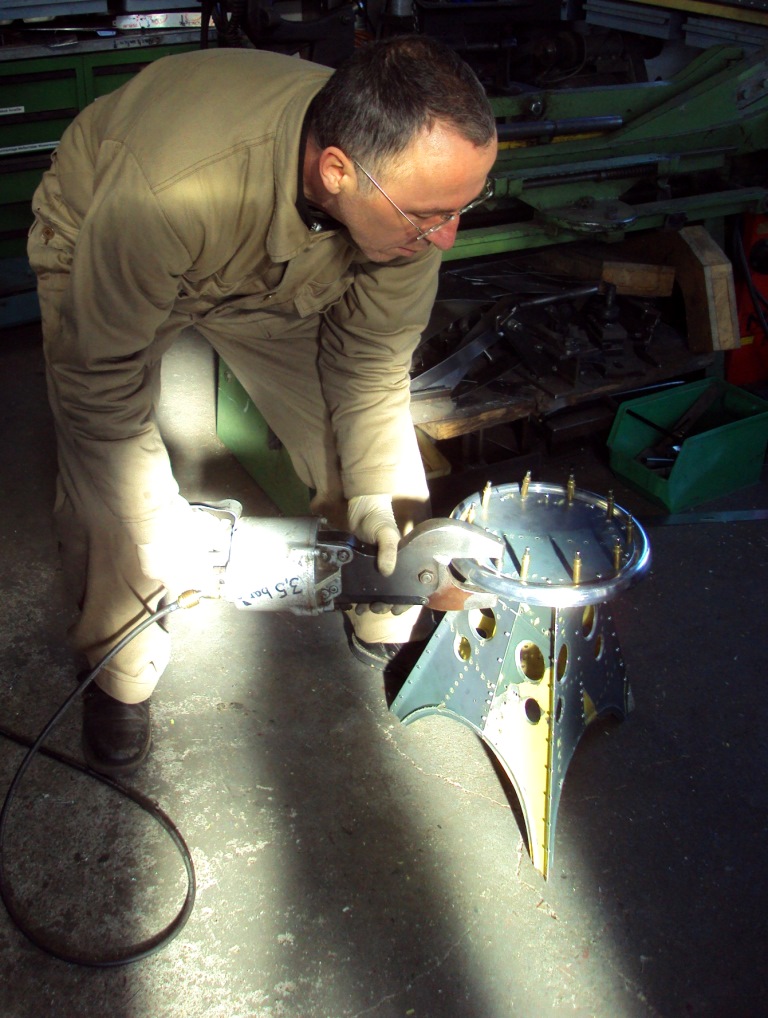 Riveted lightweight construction, stool made from upcycled helicopter tailboom.
Parts of the feet. Each is molded with a special mold that we made.
Inside view of the lightweight stool construction: stiffener with type plate.
Handmade type plate.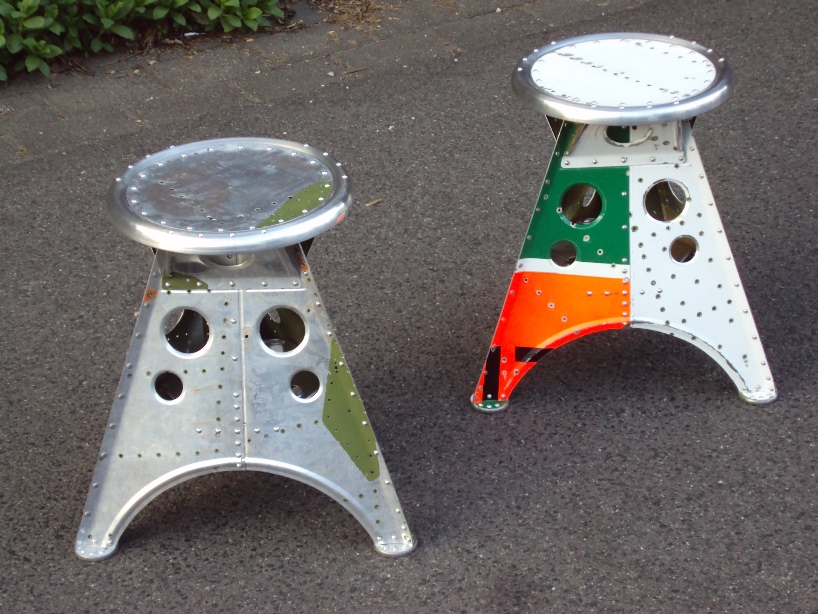 Upcycled furniture: see the old rivet holes and traces of color.
Upcycled scrap.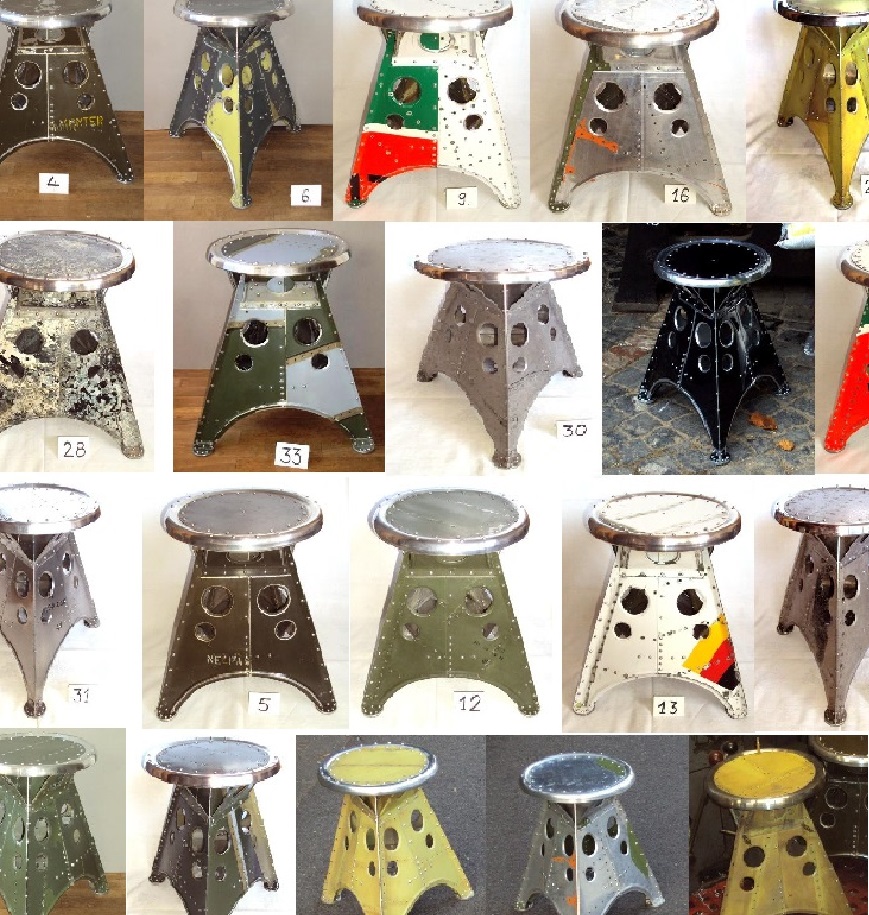 Upcycle stool galerie.
Each one looks a bit different, but only the black stool is made from a wrecked aluminum car (AUDI A8)
Our stools exhibited at GALERIE 5 (art galerie, Cologne, Germany).
Fünf Hocker aus dem Leitwerk einer Lockheed P-38 Lightning. (s/n 44-25006) Nach Jahrzehnten im Boden haben wir das Material vor dem Schrott retten können und zu Hockern recycelt. Die Farbgebung greift die ehemalige Farbgestaltung der Flugzeuge "yellow tail" wieder auf.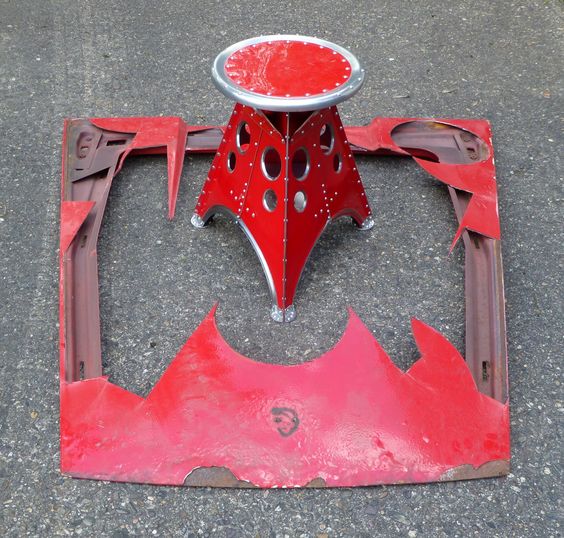 Hocker aus der Fronthaube eines Porsche 911 aus den 1970er Jahren. Nachdem wir zufällig zwei Türen und die Fronthaube eines alten 911 bekommen konnten, haben wir auch aus diesem Material mehrere Hocker gebaut. Problematisch war weniger, dass es sich um Stahlblech handelte, als vielmehr die diversen Spachtel- und Lackschichten zu verformen.
Das selbe Problem hatten wir vereinzelt ebenfalls bei der Herstellung einer Kleinserie von Hockern aus den Türen alter Land Rover. Die Türen aus Aluminium waren im unteren Bereich völlig verrottet, so dass sie nicht mehr wirtschaftlich restaurierbar gewessen wären.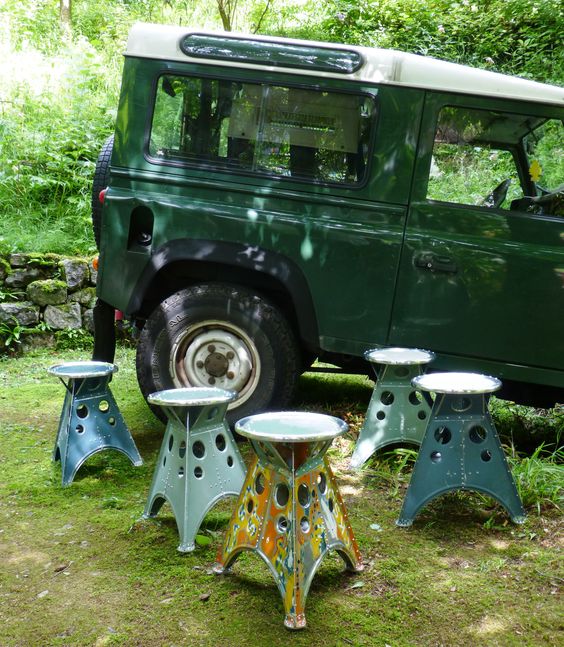 Hocker aus Land Rover Serie Türen.

---
Copyright (c) 2019 AERO-1946. Alle Rechte vorbehalten.